Description
NOTE: Batch AUG#2 now available to pre-order (Shipping Wednesday 11th August 2021).
NEW! – MAIN SPRING OPTIONS:
SPRING A gives the hardest pedal (Previously the only option)
SPRING B gives the pedal 80% hardness
SPRING C gives the pedal 60% hardness
SPRING D gives the softest pedal at 40% hardness
* Main springs are also available to buy separately in the spares section.
What is TrueBrake?
TrueBrake upgrades your Logitech G25/G27/G29/G920/G923 brake pedal to gives a positive and realistic feel. You feel the load not the small pedal movements. TrueBrake fits perfectly in your Logitech pedal set and all at a reasonable cost. It is the most appropriate and cost effective brake pedal mod available for your Logitech brake pedal.

What does TrueBrake do to my Brake Pedal?
Changes your relationship with the brake pedal to a load based sensation
Increases the load required to reach full braking
Reduces the amount of brake pedal travel to a few millimetres
SIM RACING GARAGE – TRUEBRAKE REVIEW
What's inside TrueBrake?
Cylinder and body: CNC machined 6061-T6 aluminium
Piston: Has maximum of 4mm of travel inside the cylinder
Main Spring: Heavy duty spring resists the movement of the piston
Circlip: Retains the piston in the cylinder
Linear Motion Potentiometer: High quality component that detects movement of the piston
3 Stage Load Curve:
When the brake pedal is pressed, the return spring compresses which in turn applies a small load on the TrueBrake piston.
As the brake pedal is pressed harder it engages with the polyurethane transition buffer and the load on the piston quickly increases.
The brake pedal is fully engaged with the TrueBrake piston and TrueBrake main spring.
The small movements of the TrueBrake piston are detected by the linear motion potentiometer which is connected in place of the stock Logitech potentiometer.
Engineering Quality
This unique and quality engineered solution has been rigorously tested and perfected.  All the components are housed in a 6061-T6 aluminium body and cylinder, CNC machined by AXC and designed to fit perfectly inside the Logitech pedal assembly. The end result is a robust and reliable pedal where the braking control is about pedal load rather than pedal travel. Just like a brake pedal should be!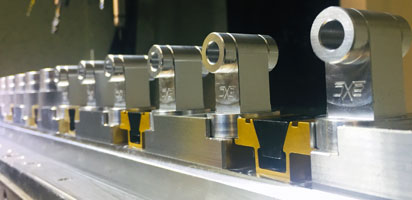 Is TrueBrake a load cell?
We consider TrueBrake an "Electromechanical Load Cell" or a "Potentiometer Based Load Cell".  Be clear that TrueBrake is not a Strain Gauge Load Cell. Strain Gauge Load Cells use an electrical strain gauge to measure the small bending of a spring element, which is often a metal beam. Using TrueBrake in your Logitech pedals gives similar end results as using a Strain Gauge Load Cell but at a much more affordable price.
Does TrueBrake measure load?
Yes.  The load compresses the internal heavy duty spring and that small movement is detected by the linear motion potentiometer.
Does a potentiometer measure load?
No. We would not claim that.
Does a potentiometer and a spring measure load?
When combined as a system, yes they do.  It's basic high school level physics.
Can I return my TrueBrake if I don't like it?
In the unlikely event that you are disappointed by your TrueBrake (within 30 days of you receiving it) you can return it for a refund.
Easy Installation
No permanent modifications are necessary to your pedals. TrueBrake connects in place of the stock Logitech brake potentiometer. No drilling, cutting or soldering required. TrueBrake can be installed using simple tools. You can easily remove TrueBrake and return your Logitech pedals to how they came from the factory.
Whats in the TrueBrake box?
1 TrueBrake Unit
1 Pedal Return Spring
4 sizes of Buffers to adjust pedal free play.
Support
TrueBrake comes with 12 Month Warranty from date of purchase. The TrueBrake unit must not be disassembled or modified by the customer otherwise warranty is void.
Spares, support and repairs available. Contact us for more information.
Download: Installation manual
Please contact us if you have any questions.
TrueBrake is manufactured and distributed exclusively by AXC Sim. If you wish to become an AXC Sim reseller then please contact us.
AXC® Logo is registered trademark of Aeroxcraft Ltd. Logitech the Logitech logo and other Logitech marks are owned by Logitech and may be registered.  PS, PlayStation, PS3 and PS4 are all registered trademarks of Sony Computer Entertainment Inc. All rights reserved.